School History
Designed by the County Architect – T.A. Collins Langmoor School opened its doors to pupils in April 1955. Built at a cost of £51 000, it was the first school in Leicestershire to be completed after the war to cater for Junior (7-11 year old) children only. Although designed for 320 pupils, such was the rapid expansion of private housing in Oadby that on the day it opened 360 pupils had to be accommodated.

The first Head Teacher, Mr Harry Morris and his staff became used to demonstrating innovation theories and best practice in education to visitors from all over the world. The stepped arrangement of the two-storeyed classrooms overlooking its extensive playing fields was much admired, as was the concrete panels adjacent to the entrance. These were created by Peter Peri. The alabaster bear by Alan Durst, which stands in the foyer, was purchased for the school with donations from parents. A list of names was placed in the plinth to commemorate the opening of the school and a time capsule was added in 1995.
The combination of a falling birthrate, the building of more schools to serve the rapidly expanding area (population 6205 in 1951, 20 000 in 1971) and the increasing age of residents in the area led to a decline in pupil numbers in the 1970's. Langmoor's feeder school, Sandhurst Infants was closed, the two schools were amalgamated and Langmoor became a 4+ entry primary school in September 1982 losing its 10+ pupils to Gartree High School.
School Badge
The horse shoes represent the racecourse, as when the school opened in 1955, the long mile could be seen from Class 3. The navy brook represents the washbrook which runs at the back of Langmoor. The three birds are Martins and Col. Martin was chairman of the Council when the school opened. Martins could also be seen on the field. The first Deputy Head was interested in Heraldry and designed the badge. It was registered and accepted by the College of Heraldry.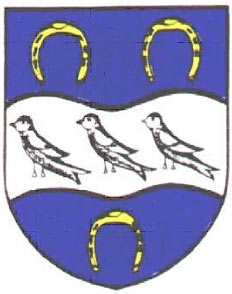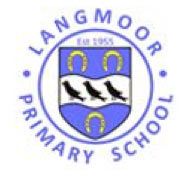 We have recently had a new badge designed to coincide with our becoming a Multi Academy Trust. As you can see we have kept the main elements of the badge. All of the schools in the Multi Academy trust have had their badges redesigned to adopt a common approach.
Our 50th Anniversary was celebrated in 2005 and we opened the time capsules that were hidden in the bear and added our own views on the school. We also completed a book of memories.
We celebrated our 60th Anniversary in April 2015 and with the support of Mrs Jackie Browne, the children designed a stained glass window for the hall. In response to this some Year 5 children also wrote a poem to go with the window and also to thank Mrs Browne for her input and service to the school.