Pre School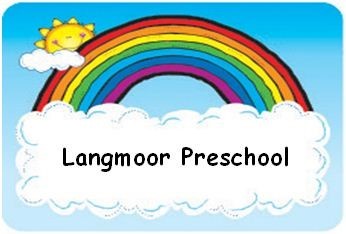 Welcome to Langmoor Preschool! We are a privately run Preschool providing sessional care for children aged 2 years to 4+. We receive government funding for children in the term after their third birthday for up to 15 hours a week. We are registered with Ofsted and at our last inspection they found all areas to be good.
History:
Originally the Preschool was based in the Methodist Church Hall in Oadby; Sally shared the running of this from 1997 and Catherine joined her in 2000. In April 2007, the Preschool relocated to Langmoor Primary School and was renamed Langmoor Preschool. The Governors of the school at that time, had approached Sally, offering the chance of relocation into a spare classroom. The offer was considered and it was decided it would be a wonderful opportunity to have our own room and enclosed outdoor area.
Aims:
We aim to provide a safe, happy and stimulating environment where the child can develop individual skills within a caring, friendly atmosphere free from discrimination. We provide free flow play from our main room to our large garden which includes a covered decking; this enables us to have all year access to the outdoors. We have our own kitchen with a safely separated eating area, where the children can serve themselves healthy snacks and drinks.
Our sessions are Monday to Friday 9am – 12 noon and Tuesday, Wednesday, Thursday 12.30 pm to 3pm.
Staff:
Our staff ratio is never less than 1:8 which is the requirement, but sessions are usually kept to 1:5.
All our staff are qualified in an appropriate childcare qualification and hold first aid certificates. However, the training of our staff is an ongoing process and staff attend relevant short courses as well as progressing onto higher childcare qualifications.
We run a Key Person system to ensure each child's individual needs are met; this includes individual planning based on the Early Years Foundation Stage.
We are:
Sally Harrison – Manager
Neeta Chauhan – Pre School Assistant
Charlotte Harrison – Pre school Assistant
Contact Details:
Langmoor Preschool
Kenilworth Drive
Oadby
Leicestershire
LE2 5HS
Tel: 07710192045
Email: preschool@langmoor.leics.sch.uk
Ofsted Registration Number: EY347734
We do ask that you would please contact the school on the morning of your child's absence. This together with a letter on their return is much appreciated, not only for our records but also for the general safety of your child.